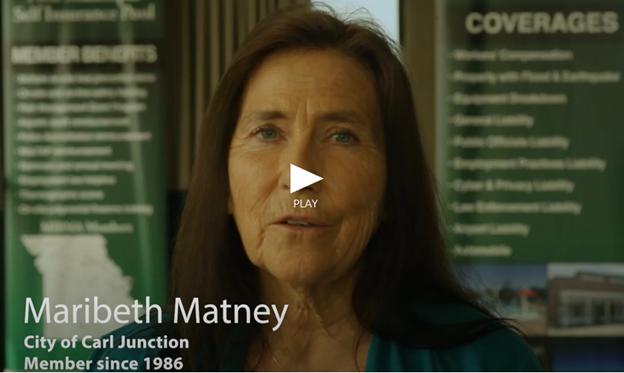 WHO IS ELIGIBLE
Any political subdivision of the State of Missouri is eligible to apply for membership.
Your workers' compensation experience modification factor must be 1.50 or lower.
Your overall loss experience must be reasonably comparable to existing members of MIRMA.
Applicants are subject to any homogeneity requirements of the Division of Workers' Compensation.
MIRMA encourages growth in its membership, however, MIRMA does reserve the right to accept or reject new membership applications.
APPLYING FOR MEMBERSHIP
Applying for membership is done directly with MIRMA. Because MIRMA is wholly owned by our member Cities, we deal directly with our current and prospective members. There is no need for an intermediary so we do not use an agency or brokerage system.
You can receive pricing in two methods,
By submitting the following five items highlighted in bold, MIRMA can provide an estimate as to a full or partial year's assessment, or;
By submitting a completed application with all of the following information you can you receive a formal proposal.  The submission of an application does not obligate either your municipality or MIRMA, but is the first step in the membership process.
MEMBERSHIP APPLICATION
click here
To request a Membership Application.
The following documentation will need to be submitted with your Membership Application:
Five years loss experience.
Total municipal budget for all funds.
Total number of full time and part time employees.
Total annual payroll for the two most recent calendar years.
Current lists of the following:

Heavy equipment (include current market values)
Buildings and other property, excluding land only (include current replacement costs)

A copy of your most recent financial audit.
A copy of your most recent workers' compensation modification factor worksheet.
ASSISTANCE IS AVAILABLE
Should you need help or explanation regarding your application for membership, comparing MIRMA to your current coverages, or if you would be interested in a presentation to your governing body, please feel free to contact us by phone, fax or email:
Matthew Brodersen
Executive Director
Missouri Intergovernmental Risk Management Association
3002 Falling Leaf Court
Columbia, MO 65201
Phone: (573) 817-2554
Fax: (573) 441-0515
mbrodersen@mirma.org
WHAT NEXT
If you elect to join, the following three additional items are required:
You will be required to pass an ordinance authorizing your participation in MIRMA.
You will be required to complete an application required by the Division of Workers' Compensation which MIRMA will prepare for you.
You will be required to sign a membership contract with MIRMA adopting its Articles of Association and By-Laws. The signing of the membership contract is the last step, making a final commitment to participate in MIRMA.
DATES TO REMEMBER
MIRMA can admit new members on the first of each month during the year, providing completed applications and all related data are received 30 days prior to the date membership becomes effective.
During the first year of membership, the assessment will be pro-rated for the number of months remaining in MIRMA's fiscal year, at MIRMA's current rate and commencing with the start of MIRMA's new fiscal year, a full year's assessment will be changed on MIRMA's new rate.
In subsequent years, all renewal applications and related data must be received annually in the MIRMA office by January 30th.
TIPS ON COMPLETING YOUR APPLICATION
Budget and expenditure data should be reported on a fiscal year basis, starting with the fiscal year most recently ended.
Payroll information should consist of all gross payroll plus all remuneration paid to the City Attorney and contract recreation officials for the entire calendar year ending December 31, prior to the date membership becomes effective. However, the premium portion of overtime pay may be deducted.
The Workers' Compensation Classification Codes must also apply to the same calendar year. If employees perform duties under more than one classification code, the payroll system must apply the appropriate amount of payroll to the corresponding classification code.
The Workers' Compensation Experience Modification Factor, and your current Classification Codes can be found on the premium calculation page of your Workers' Compensation policy.
The term, heavy equipment, refers to bulldozers, backhoes, tractors, or other construction or maintenance type of equipment, which you own or lease.
Please provide as much information as possible regarding any safety programs, rules, or procedures that you currently have in operation.
It is an absolute necessity that all data required be reported in its entirety or marked as 'not applicable'.
MAKING THE CONVERSION
As MIRMA's coverage has a retroactive date of the membership effective date, for covered occurrences it is important to review all expiring insurance policies to determine if they are on an "occurrence basis" or a "claims made basis". Policies that are on an "occurrence basis" may be canceled the date membership in MIRMA becomes effective. Policies that are on a "claims made basis" should probably be renewed for one or two years, unless an extended discovery period can be purchased.
A "claims made" policy will only pay losses for which claim is made during the period the policy is in force, regardless of when the occurrence took place that generated the claim. An "occurrence" policy will pay for losses regardless of when the claim is made as long as the occurrence that generated the claim took place during the period the policy was in force.
If a claim is made after your membership effective date, for an occurrence that took place prior to your membership effective date, MIRMA cannot pay it. If the expiring policy was on a "claims made" basis and was canceled or not renewed, and an extended discovery period was not purchased, that company would not pay the loss either.
Records will need to be kept of all previous insurance companies as it is the responsibility of the member to file all claims with those companies which resulted from occurrences that took place prior to your membership effective date, and are not covered by MIRMA.
---