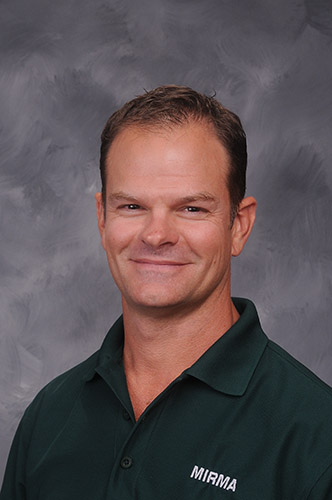 Sr. Loss Control Consultant

---
Kelly was raised in Kirksville, Missouri and is a graduate from University of Central Missouri in Warrensburg with a Bachelor of Science in Safety Management. Kelly's first introduction to safety was as a Lifeguard at Kirksville's County Club. After being a lifeguard for 2 years Kelly became the Pool Manager and Head Lifeguard. Kelly's first job away from home was in Chicago, Illinois as a Safety Coordinator Assistant. Following graduation and his time in Chicago, Kelly took a job as the Safety Coordinator at Northwest Iowa Community Collage as a Safety Coordinator for an outreach program for local communities. As the Safety Coordinator, Kelly was responsible for safety training, inspections of City facilities and compliance with Iowa OSHA with 9 communities in Northwest Iowa. In 1996, Kelly accepted a position with MIRMA as a Loss Control Consultant.
As a Senior Loss Control Consultant Kelly's responsibilities include conducting safety training, firearms training for Police Departments, facility safety inspections and loss control evaluations. Kelly currently holds the following designations: ARM-P Associate in Risk Management with Public Entities designation, AINS Associate in General Insurance Services, CPSI Certified Playground Safety Inspector, Certified Municipal Official, and has completed Levels 1 and 2 of the Missouri L-Tap Scholars Program.
Kelly is also an owner of a small business with his brother where they have 8 rental units. Kelly also enjoys a variety of outdoor activates including golf, hunting and enjoys visiting his dad who lives in Orange Beach Alabama where they go off shore fishing whenever they can.